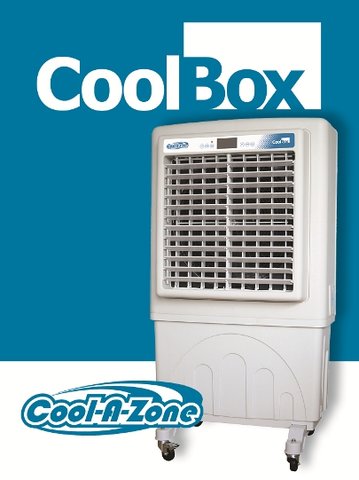 CoolBox Portable Air Conditioner
Actual Size: 5x3
Outlets: 1




Jumpers4you party Rentals Portable Air Conditioner
Chill Out!
Take the summer heat off your next event or pool party with Cool-a-Zone. This simple, powerful and quiet climate-control solution from Cool-A-Zone takes proven, evaporation-cooling to the next level. Utilizing water-soaked cooling pads, Cool-a-Zone can lower the ambient air temperature from 10 to 25 degrees depending on the climate.

The Cool-A-Zone C-100 portable evaporation cooling fan is ultra-light and ultra-portable with an advanced user control panel that makes operation highly automated. Ideal for cooling tents or to cool any space more efficiently and economically. With the featured remote control and advanced automation features, the Cool-A-Zone C-100 features a host of user customization options for timing, sleep function, shut-off, and more.
Lowers ambient temperatures 10%-25%
Cooling Capacity: up to 1350 sq. ft.
Maximum Air Delivery: 3,531 CFM
Water Reservoir: 21 gallons
Unit Weight: 62 lbs. / 28 kg
Three Speeds
Remote Control
Fully Programmable timing, shut-off, and sleep features
Fan Type: Axial
Exceptionally low running cost
Portable air conditions for rent are perfect for an outdoor wedding, patio, tent, sporting events or special events that need portable cooling solutions. swamp coolers for rent, patio coolers for rent, outside portable air conditioners for special events for rent, outdoor coolers for weddings, air cooler for rent in palm springs, tent cooler for rent, rentals of portable air conditioners. Misting coolers for sporting events for rent, sporting event cooler rental.